If you are still using traditional methods to send money abroad, it is about time that consider the better alternatives giving you greater speed, flexibility, security all delivered at lower cost than the traditional bank.
While the old procedures might seem familiar to you, they all have some disadvantages to them. For example, banks tend to have a complicated process with hefty exchange rates, and bureau de changes are notorious for charging hidden fees.
So, if you are trying to transfer money to your loved ones in Canada from the UK, do not go for the old school transaction methods. Instead, opt for our online money transfer services and send funds in just a few simple steps.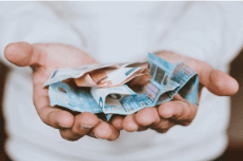 How to Send Money from the UK to Canada via The Currency Club?
Sending money abroad is no longer a troublesome process. At The Currency Club, we let you transfer funds internationally in the most convenient way possible.
Just follow the few steps below, and your money will reach its destination without any hiccups:
Step 1 : Register yourself to our website and visit our International payments page.
Step 2 : There, you will find our currency converter in the top right corner. Select Pounds (GBP) and Canadian Dollars (CAD) in the "You Send" and "Recipient Gets" sections, respectively.
Step 3 : Enter the amount you want to send in the first section, and our converter will show you how much the recipient will receive. This amount depends on the interbank rate at that very moment.
Step 4 : Click on "Get Started" if you are satisfied with the converted amount. By doing so, you are also confirming the exchange rate for this particular transaction.
Step 5 : Fill in the Canadian bank account details of your recipient.
Step 6 : Pay your said amount through a bank transfer, debit card or credit card.
After the payment is made, you will get redirected to a new page to track the transaction until completion.
And just like that, you have sent funds to your loved ones in Canada without even leaving your house. Further, we help you send money overseas cheaply , ensuring your recipient is getting the most out of the GBP you have transferred.
Moreover, we suggest that you save all the bank account's details that you send money abroad regularly to. This will take a step out of our already straightforward money transfer process.
Even though our international money transfers services mainly send funds from one person to another. You can use it to move money from your GBP account to your own CAD account as well.
The entire procedure remains the same, except now you are entering your own Canadian account's details. Along with the transfer process, all the key aspects of our assistance are also the same, irrespective of the recipient type.
What Information Do I Need to Provide?
Apart from your recipient's banking details, you will also have to provide us with a few of your personal information during the signing up process. This includes your basic information along with address proof.
Sometimes this information might also include your identity proof which we take for your own security when you send money abroad.
We would also require your picture either in PNG, JPG or PDF format. We also accept clear photos and scans as long as you can securely upload them via our site's MY Account section.
How Much Money Can I Send from The UK To Canada?
Whether you send money to Canada, Australia or even the USA , we have set our transfer limits at 50,000 GBP per transaction. But if you want to send a larger amount, call our customer support, and we will give you hands on advice on how to make a larger payment to Canada.
What Fees Will I Have to Pay?
A great feature of our money transfer service is our transparency in our service fees. We use the interbank rate from the time a request is placed and only add a nominal margin onto it as our profit to calculate exchange rates.
You can easily calculate this margin by subtracting the locked interbank rate for your transaction from what we are offering.
As the interbank rate is constantly fluctuating with the FX market, the exchange rate will also change. Moreover, unlike bureau de changes and other FX brokers, we do not have any hidden fees associated with our services. The total fee we charge is always shown clearly during the booking procedure.
Even though we hardly charge anything when you send money abroad via us, you might have to pay an extra amount at times. This is because, in some cases, your recipient or the intermediately banking facility might charge an additional fee.
How Long Will It Take for My Money to Get to Canada?
The duration entirely depends on the service level you selected to transfer money abroad. That is, if you choose our Quick and Easy Payment service for an additional fee of 0.39%, your money will reach its recipient relatively faster.
However, no matter which level you choose, the expected date of transfer will be mentioned on your order flow.
Summary
The Currency Club provides one the most profitable online money transfer service in the market. We offer you high exchange rates by keeping a negligible margin for our profit. Moreover, we do not charge any hidden fees from our clients and help you get the most out of your currency.
Our service booking process is extremely straightforward, and you can transfer money by following only six easy steps. Furthermore, we let you save recipient bank details to make your next booking process even smoother.
Hence, do not waste your efforts and money on something that would only complicate things and choose us every time.