The UAE (United Arab Emirates) has long been known as a big economic hub for British expats, and those looking for a warmer climate for a holiday destination or a place for retirement. The UAE offers it all, with all round fantastic whether and fabulous hospitality, no wonder thousands travel there every year.
Consequently, cross-country movements and settling down had been the norm as well. So naturally, there has been a need for individuals to send money abroad to the UAE.
If you too want to know the best way of transferring money abroad, The Currency Club is your answer.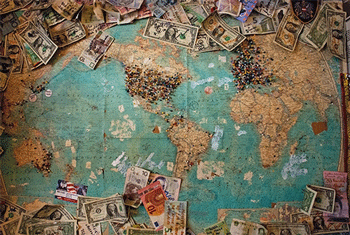 How to Make Money Transfers from the UK to UAE?
Sending money overseas has never been easier. In a few simple steps, we provide you with a hassle-free and secure way of international funds transfer. All you need to do is:
Step 1 : Create an account on our website and go to its International payments page.
Step 2 : In our currency converter on that page, use GBP in "you send" and AED in "recipient gets" sections, respectively.
Step 3 : Then, enter your preferred amount in the "you send" section.
Step 4 : Check the current exchange rate and the converted money your recipient will receive. If satisfied, confirm it and the transferable money by clicking on "get started".
Step 5 : Put in the necessary bank details of your recipient.
Step 6 : You have multiple options like credit card, debit card and bank transfers to pay and complete your order.
Once you are done paying, the page will redirect to this particular transaction's order flow. There you can track this entire process until completion.
What Information Do I Need To Provide?
The information you need to provide to get our services is extremely basic. Simply put down your general details during your registration, and that is it in most cases. However, in a selected few instances, you may be asked for identification proof for security purposes as well.
Also, please upload your picture in JPG, PNG or PDF form in our site's My Accounts section. This image you provide can also be clear or a scan, and we will accept it provided you securely upload it.
How Much Money Can I Send from the UK to the United Arab Emirates?
At present, we limit our money transfer services to a maximum of 50,000 Pounds in a single transaction. Nevertheless, our customer service is open to assist if you want to send a larger amount.
In addition, please note that the set maximum amount is the same for every country where you want to send money.
What Fees Will I Have to Pay?
You can send money abroad at highly competitive rates with our assistance. This exchange rate is calculated by combining the live interbank rate from the moment you confirmed this transaction and a minimal fee.
During each money transfer, we provide complete transparent details. Therefore, it's easy on your end to calculate our margins by subtracting the market rate displayed what we charged.
Notably, the exchange rates fluctuate depending on the ups and downs in the Foreign Exchange market. So, you should be wary of that and confirm your fund transfer request when you are happy with the rate.
Unlike bureau de changes or other currency-exchange facilities, we do not have any other hidden service charges. But in certain cases, your recipient or their intermediary bank may charge additional amounts for the transfer. However, The Currency Club has nothing to do with that.
We will only charge you an extra amount of 0.39% if you get our Quick and Easy Payment Service.
How Long Will it Take for My Money to get to the United Arab Emirates?
The period depends on the kind of assistance you choose to receive from us. This means if you choose our Quick and Easy payment services, your sent amount will reach comparatively faster. You can also track the potential transfer date by checking the order flow.
Kindly note that the money transfer duration depends on your recipient's bank as well. Also, it varies based on the rules and regulations of your recipient's country.
Summary
Unlike traditional systems to transfer money abroad, you do not have to go through complicated application processes. Instead, you can easily send money internationally by following the steps stated above regarding our facility.
Furthermore, we offer similar services if you want to transfer money to Hungary, Canada and other countries from the UK. So do not waste your time on disadvantageous options and select us for all your concerns regarding how to send money abroad.
At The Currency Club, we provide a range of services regarding sending money to several countries. Click here to know more about sending money overseas.