So, you've just landed in town. You're ready to start making plans out and about. Perhaps you're heading for a spot of shopping in the west end's Oxford Street and Regent Street, or you're off to glitzy Knightsbridge with some spending at Harrods.
You may have just arrived in London as a student or starting work for the first time and you need to exchange currency to pay for your accommodation.
Before you go you may need to exchange your currency into pounds. This guide is here to give you the top tips when exchanging currency in London to ensure you always avoid the pitfalls and always get the best exchange rate when you exchange money in London.
Prepare in advance - understand the exchange rate!
Currency Exchanges and Bureau de Change traditionally hide their fee within the rate of exchange that they provide, and this can make it tricky in terms of knowing whether you are getting a good deal when you change money in London. The first step is to make sure that you understand how the exchange rate works.
All bureau de changes and currency exchanges in London and globally work their exchange rates from the live interbank exchange. This is the rate that you would see if you visit the currency converter on The Currency Club website. [embed the link in the text]. In simplest terms this is the rate at which the banks exchange money with one another. Think of a currency exchange as a couple of tiers down.
For example, if the interbank exchange rate is showing £1 pound = €1.25 Euros or the quote is the other way round, €0.80 euros gets you £1 pound, then this can be your benchmark. Remember the bureau de change or currency exchange will always need to make some profit so they will always make sure that you receive less euros for the pounds that you are exchanging when compared to the interbank exchange rate.
The real question is how much is this difference?
Some currency exchanges in London, mainly in touristic areas, or major train stations charge commission on top of the bad exchange rate. Think of a double whammy of fees. Avoid!
Now you have the idea of how things work in currency exchange, think about the next steps to get the best deal so you always get the most amount of pounds for the currency you are selling.
1) DO NOT exchange any money at the airport!
This is biggest tourist trap of all time. If you end up changing money at the airport then always remember they will most probably charge you an exchange rate which is as far as up to 15% from the exchange rate and additionally they are likely to charge commission. When you take this into consideration it could cost you as much as 20% to exchange money at the airports in London and abroad! Do the maths. Take out your mobile phone on arrival at one of the London airports and compare it to the exchange rate either on a currency converter from google search or our currency converter.
There are better exchange rates to be had when you arrive in London. Changing money at the airport is one of the worst things you can do.
2) Start your search on Google First
This is probably how you have come across this blog in the first place. The first thing to do is to google online and find currency exchange buy rates from their websites or call them individually depending on the location that you are in.
Look for currency exchange shops that do not charge commission as a starting point. Then begin checking their exchange rates vs the live interbank rate as displayed on our currency converter on Google's currency converter.
Always work out the total overall amount that you will receive when exchanging your currency net of any fees. Make a list on a piece of paper.
3) Don't forget to check the currency exchangers reviews.
For example, if you wish to change money in the West End, check for google reviews and reviews on independent sites such as trust pilot and others.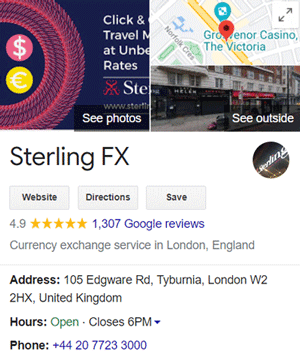 Source, Sterling FX, established in 1972, charges no commission and low FX markup when selling currencies.
4) Do your due diligence on the currency exchange that you want to use!
All currency exchanges in London must have a money service business licence. This is to confirm they are licenced by HMRC (Her Majesty's Revenue and Customs).
The main area of monitoring comes from the banks of currency exchanges. If the bank is not happy with the procedures of the currency exchange, it is likely that they will not have a bank account, and therefore they will not have a clear source for the cash that they provide you. If they only have cash only services, it's likely that they will simply recycle cash from the street and therefore it could be possible that you could end up with counterfeit notes.
Check that your currency exchange has a bank account where they can also pay your money into a bank account if you wish.
5) Make sure that you clearly obtain the quote clearly before proceeding with the transaction when exchanging money
Time and time again, I hear situations in London where a customer doesn't hear the cashier correctly through the glass, they end up changing their currency and the amount is not what was expected.
Finally make sure you have complete clarity on the details of your currency exchange when you change your money.
6) Always clarify with your chosen currency exchange whether you need any documents in advance of arrival at their bureau de change.
Depending on the amount you are changing, always make sure that you have the necessary documents in advance of your tip to the currency exchange. In most cases in order to adhere to anti money laundering rules, you will need to provide your passport, proof of address and in some cases where large amounts of money are involved, your source of funds too.
Remember to adhere to the rules of the UK Government, on entry to the UK. Be aware of the amounts that you must declare at customs. Keep a hold of this receipt as you may be required to show this to the currency exchange where you change your money in London.
About Us
The Currency Club is one of UKs leading transparent Foreign Exchange Companies.
Visit The Currency Club today if you wish to send money abroad at low transparent fees always at the interbank exchange rate or you wish to buy Travel money online.
0207 723 7000